York Area Down Syndrome Association (YADSA) is a non-profit organization that provides support to families with children and adults with disabilities with a primary focus on individuals with Down syndrome.
You can count on YADSA to be supportive, informative and there for your family. We offer many activities and have monthly business and support meetings.
Provide information for parents and the community through meetings, special speakers, and educational training.
YADSA has several activities throughout the year.  These activities are listed under our activities section on the website.  They provide wonderful opportunities for growth, development and friendships.
Shop at AmazonSmile and Amazon will make a donation to the YADSA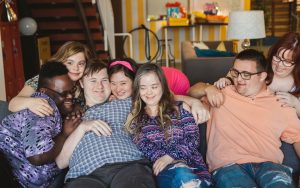 After receiving a half-dozen Emmy nominations, new episodes of a reality show following a group of young people with Down syndrome are on the way. A&E Network said it has renewed "Born This Way" for a fourth season. The show, which centers on seven young adults with Down syndrome and their families, will return with … Read more

Something is wrong. Response takes too long or there is JS error. Press Ctrl+Shift+J or Cmd+Shift+J on a Mac.